If you find a lower price, call us and we'll beat it, GUARANTEED.
We do ALL of the labor and loading no matter where your items are located! Everything is properly recycled, disposed of, or donated. Our single price includes labor and disposal. Only taxes are extra.
BIGGER trucks. Better rates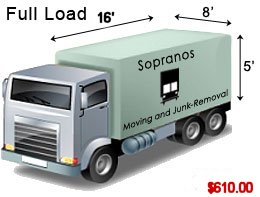 Compare our 16' long Full Loads to the 10' of the competition. Mouse over icons below for more.
Junk Removal Rates
Prices include labor and disposal

Our Truck size:
16' x 8' x 5'
(biggest in industry)

***Competitors' trucks are 4 feet shorter with higher rates.
Load
Price
1/8th
$170.00
1/4 Load
$285.00
Half Load
$385.00
3/4 Load
$495.00
Full Load
$610.00
Seniors Discount: 5%
Payment Options:

cheque / cash
We always do our best to minimize landfill by Reuse and Recycle.